La Salle à Manger offers a 3-course restaurant lunch for 1€ to those in great difficulty in La Défense, if they have been referred by a social worker. Open Monday to Friday.
La Salle à Manger is also open to everyone who lives and works in La Défense who would like to share a meal and create a connection with our most fragile neighbours.
We welcome you all, whether you are sleeping rough, studying, living or working in La Défense. We look forward to offering you our healthy family recipes made with love, from unsold produce … at a price suited to every budget.
---
Our Menu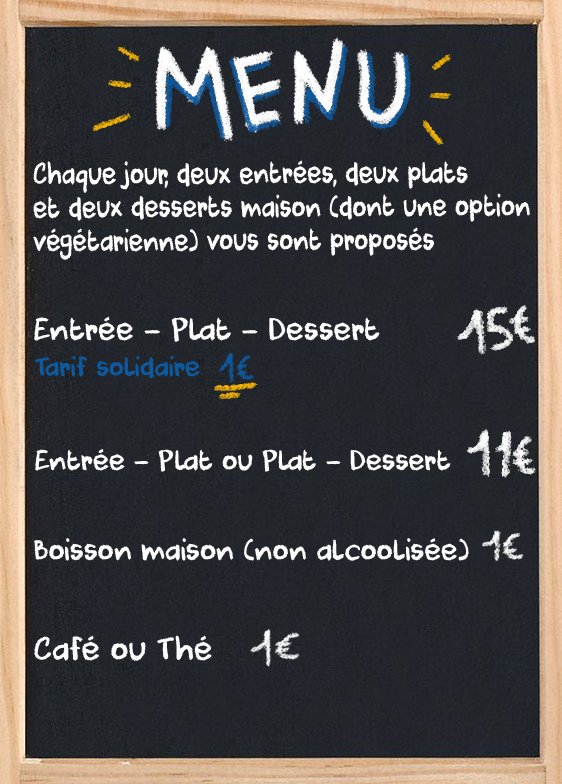 We cook with unsold produce which is delivered to us every day. In other words, the menu changes on a daily basis according to the deliveries, the season and the creative whims of our cooking team. A choice of 2 starters, 2 main courses and 2 desserts are offered every day.
If you want to know the menu of the day, give us a call!
06 98 19 29 57
(+33 6 98 19 29 57 ( if international) or write to bonjour@salleamanger.org
---
Where and When?
La Salle à Manger is at the foot of the EDF tower, in the square courtyard at the bottom of the steps (Patio de la Pyramide). With your back to the EDF tower, it's the door on your left. Not the most obvious spot, but do not give up, you will find us!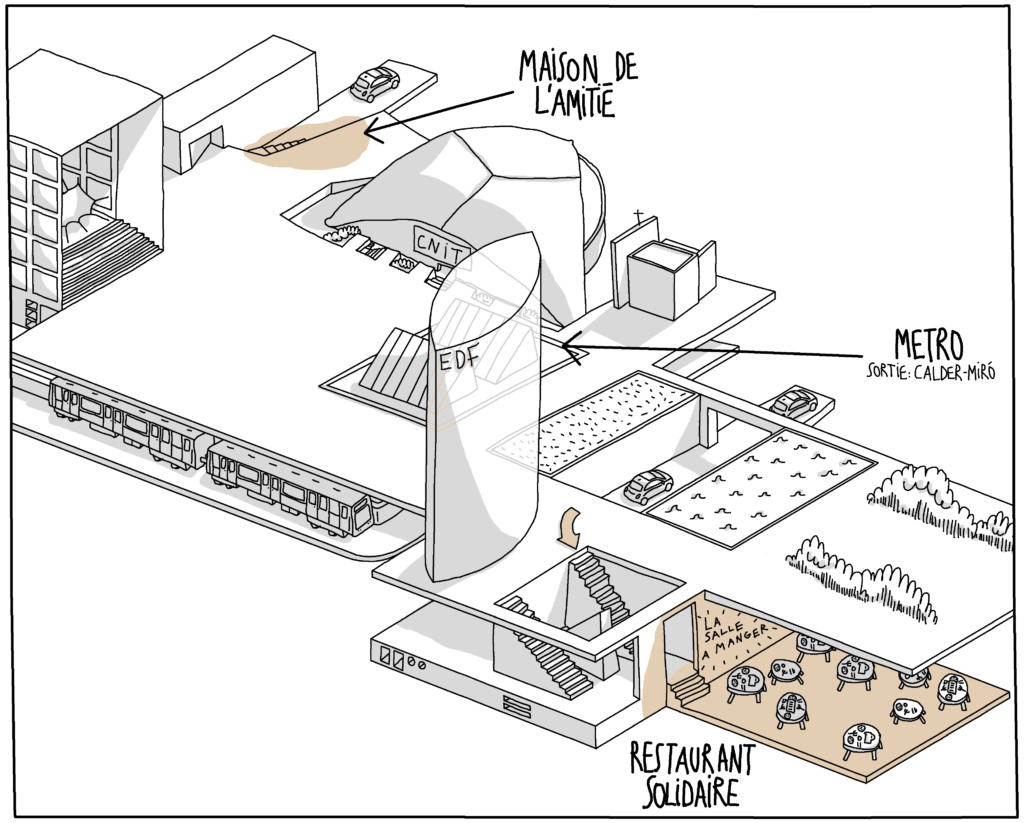 Metro : Line 1 « La Défense »
RER : Line A « La Défense »
For both, use exit "Calder – Miró".
Opening hours: Monday to Friday from 12:15 pm to 2:15 pm
Reservations: 06.98.19.29.57 (+33 6.98.19.29.57 for international)
---
Our Utopia
La Salle à Manger is the sister organisation of La Maison de l'Amitié, a non-profit day-centre which welcomes anyone in extreme difficulty, such as those sheltering in the tunnels and carparks beneath La Défense. Geneviève Gazeau, who used to work in one of the towers, founded La Maison de l'Amitié in 1998 with the aim of creating a bridge between the business world and the homeless. It all began with the "P'tits Cafés" (breakfasts with tea and coffee) served by volunteers who also provide a moment of comfort and friendship to those who most need it.
Today, more than 40,000 teas and coffees are served every year by around 100 volunteers who take turns Monday to Friday, from 7am to 8:30 am, helping and socialising with the people we welcome.
La Salle à Manger is the continuity of this utopia. We all know the convivial feeling of sharing a meal – we want to recreate this and encourage real encounters. We believe that talking to others and being acknowledged by someone else are the two most important ingredients to rebuilding broken lives.
We like to aim high and so our restaurant is also a professional training school. We hire people in social and economic difficulty who are keen to learn, helping them adapt to the labour market.
Finally, we are committed to being eco-responsible: we give a second life to unsold goods and fight against food waste.